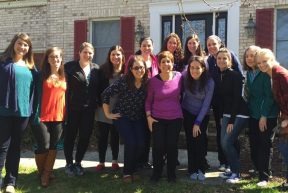 Nominations are open until August 23 for any members who wish to run. Keep an eye out for an email in early September to vote on all nominees. Online voting will close on September 15, but a printed ballot will be available at Circle Reunion for those who are unable to vote online.
Take a moment now to think about someone you'd recommend to join the board, and email your nomination to Randi Moody at randim@camplouisecircle.org. If you would like to nominate yourself, go directly to the nomination form.
Board Responsibilities
Interested in learning more about what it means to be on the board? You are committing to a 3 year term (you may be re-elected for a second term) in which you attend at least 2 of the 3 meetings per year. You will be expected to be on at least one committee and more importantly, you get to work with people who are just as passionate about Circle (and camp) as you are! If you have any questions about being on the board, contact Circle President, Andie Snyder at andies@camplouisecircle.org.