Circle Day is a day to celebrate our love for Circle and all of the great experiences and friendships it has brought us. Join us this year for a
virtual Circle Day

! There will be three camp-themed zoom events throughout the day that you can join: Yoga, Cookery, and a Game Show. Register for the events below! Also, don't forget to post photos on social media in your favorite camp clothing or memories with your Circle friends using the hashtag #CircleDay2020.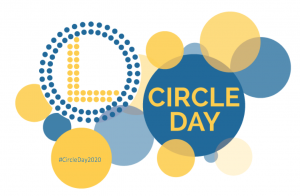 Nefesh: Yoga
Join Circle member, Sherry Rubin, for a camp-themed yoga session at 11am on Sunday, May 17th. Family and friends are welcome!
Afternoon Activity: Cookery
Join Circle member and current Cookery Department Head, Sam Deane, at 4pm on Sunday, May 17th for a special at-home cookery session over Zoom! During the session you will prepare stir-fry for dinner and brownies for dessert. Recipe and items needed will be shared prior to the session. Family and friends are welcome!
Ingredient List:
Stir Fry
1 pepper
1/2 onion
3 cloves of garlic- finely chopped or crushed
1/2 head of brocolli
100g (3.5 ounces) beansprouts
6 mushrooms- quartered
200g (7 ounces) noodles (your choice)
150ml Teriyaki sauce (or your choice of sauce)
Teriyaki Sauce
1 cup soy sauce
1/4 cup honey
1/4 cup light brown sugar
1 tbsp lemon juice
Vegan Brownies
1 1/2 Self raising flour (Can be made with baking powder, salt, and all purpose flower. Simple recipe here.)
1 1/2 Caster sugar (Can be made by blending granulated sugar. Simple recipe here.)
12 tbsp cocoa powder
1 1/3 cup of water
Evening Activity: Game Show
Join Circle member, Jen Falik Rains, and other special guests at 8:30pm on Sunday, May 17th for a camp themed trivia night! Study up on your camp history and facts, put on your camp clothing, and join us for this fun-filled evening activity. You can participate in a group or solo. If you participate in a group, you can collaborate with your teammates on your own over the phone, FaceTime, text- whatever works best for you and your friends! The winner will receive a special welcome gift basked at Circle Reunion.