Thank you for your interest in Leaving a Legacy and supporting Circle! Circle has three Legacy items: a Leaf for The Circle Sisterhood Tree of Life, a Dedication Brick and a Dedication Plaque for purchase. All three are made in someone's honor, memory or to celebrate a life event. A Mitzvah Card will be sent to the individual or their family to inform them of the donation. If you have any questions about a legacy item, please contact Ayme at aymel@camplouisecircle.org.
Purchases are made at the bottom of this page. Once you check out, you will be directed to a form to fill out the information for the item and Mitzvah card.
The Circle Sisterhood Tree of Life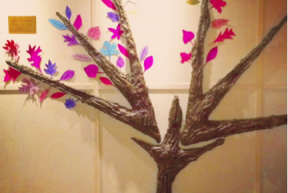 Thanks to the generous donation of Rita Drapkin, Circle 1988 and Past President, for her generous donation of the Tree of Life.
Created by artist Phillip Ratner, the metal sculpture of a tree trunk and branches was originally the "Sally K. Drapkin Tree of Life" and hung in Ohr Kodesh Congregation. It was transferred in the summer of 2014 to Camp Louise and now hangs in the White House. The Tree is prominently located inside the main entrance across from Activity Room 1, where nearly everyone passes when they come to Camp.
Each leaf can be engraved with a message of your choice. Options may include:
• Dedicating a leaf to your Circle Sisters or CIT year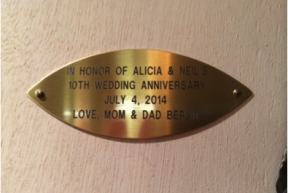 • Gifting a leaf in honor or memory of a loved one
• Recognizing a significant life milestone
Currently, leaves for "The Circle Sisterhood Tree of Life" can be purchased for $86, which is 100% tax deductible! There is space on each leaf to engrave up to 4 lines of text with 25 characters per line, including spaces. Proceeds from every leaf will go towards Circle initiatives that support Camp Louise.
This is a unique opportunity to give back to your home-away-from-home, enhance the beauty of a beloved building and leave a lasting mark for years to come. With your generous help, "The Circle Sisterhood Tree of Life" will start to grow, fill up with meaningful messages and be another cherished staple at Camp Louise.
Dedication Bricks Across from the Post Office
Honor or remember someone with a brick on display across from the Post Office. Bricks are $150 each.
Dedication Plaques in the Dining Hall
The plaques are on display in the Dining Hall entrance and are a beautiful, lasting tribute. Each plaque is $216.