The Transplant Spotlight features someone who is not Homegrown or didn't attend camp as a camper. Instead, this person came to love camp later in life.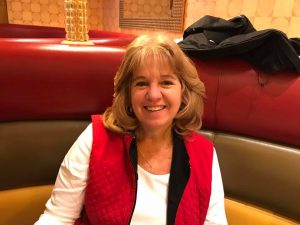 Location: Olney, Maryland
Age: Old enough to know better
Year you made circle: 1984
Job in real world: FDA Child Care Center, White Oak, Md. as a toddler teacher
What brought you to camp? I went to the yellow pages looking for a summer job. My mother thought I should get away for the summer. I contact both Camp Louise and Kaufman Camps (Capital Camps) and Louise offered me $50 more.
How many years (and in what roles) did you work at camp? 1982: Counselor in Bunk 2 and Assistant Unit Leader to Eileen Friedman and worked in the Athletic Department. Unit Leader of Laurie's Unit…no Letters! from 83-86
Do you plan on working/volunteering at camp in 2018? I am unable to be at camp due to my full-time job.
Favorite camp memory: Besides the pranks and fun outside of camp, my favorite memories are of the people who became lifelong friends. We continue to make memories each year at Reunion and are there for each other in good times and bad. We are truly camp family. I also loved counselor shows. I never have or have since gotten up in front of others to sing, dance and entertain. This really helped me step out of my comfort zone.
Hobbies: Being at the beach at any time I can get there, reading books, hanging out with dogs and my husband and spending time with friends at my Tiki Bar.
Something that I'm looking forward to in 2018: Graduating!!!!!!