The New Circle Spotlight features someone who joined Circle in the most recent induction class.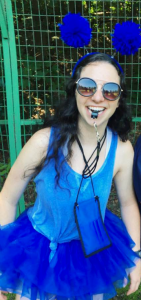 Location: Currently I am at school at Syracuse University studying advertising in the School of Public Communications. I was born and raised in Charlotte, NC.
Age: 20
Year you made Circle: 2017
Years on staff: 2015-2017: I have been a counselor in Unit A, Unit F and last summer, I was fortunate enough to be a CIT counselor. I am a member of the Athletic/Gymnastics department.
Job in the real world: I'm a student and the historian for my sorority, AEphi; that is currently taking up all of my time.
What brought you to camp? I didn't really have a choice about coming to camp (not complaining at all!!!!). My parents and grandparents worked at Camp Airy so I was on the mountain when I was only four months old!! I grew up at camp and have become the person I am today because of camp.
Favorite camp memory: There are so many to choose from!! Being a CIT counselor this summer was the most incredible experience. I absolutely loved watching my girls transition from campers into future super-star staff members. We went on a climbing trip and my group proclaimed that they were not comfortable with heights. Every single camper finished the climb due to the support we gave each other. This is an example of the things we can accomplish when we are part of such an incredibly supportive community.
Hobbies: Spending time with my friends during my free time is the most important thing for me. I am very busy with school work this semester, so anytime I have free, I spend it socializing.
What are you looking forward to in 2018? Next year I am going to be studying abroad in London and I am excited for the experience as well as the chance to visit with all the international staff members who have worked at camp!