There is no better way to cope with winter weather than to get involved and hang out with your Circle siblings!
Special Events
Be on the lookout for a  brunch in the next few months! Also, coming up in May is the most circular day of the year: Circle Day! There will be lots of social media and real-life fun happening on those days.
Do you live outside the DMV/Pennsylvania/New York area and still want to be involved in Circle Day/other social events? Talk to Janie (janieb@camplouisecircle.org) to see if there are any members of Circle near you.
Which brings me to my next point…
The Directory
We're working really hard this year to clean up our database and get a better sense of where we all are! If you haven't updated your information in awhile or you've recently moved, please update your info on the alumnae database form. Don't worry about duplicating – we'll take care of making sure everything's up-to-date.
The Lighthouse
Want to write an article for the next issue of the Lighthouse? You're invited to write! Be sure to send any Lighthouse articles, images, jokes, recipes, etc. to janieb@camplouisecircle.org! We're also working on the biggest camp playlist on Spotify. Help us by sending me any songs MUST make the list.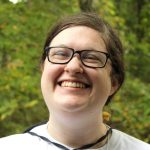 As always, you can stay connected with membership and other Circle updates on our Facebook organization page, the Facebook group, and the website. Have a wonderful 2018, and try to stay warm!
Janie Brown
VP Membership