The Camp Airy and Camp Louise Foundation has begun construction on Camp Louise's new 700-seat theater, generously funded by the Herbert Bearman Foundation. There are still opportunities to donate towards the theater, including $3,600 and $5,000 bench sponsorships.
The Jill Bearman Theater, known as "Jill's Place" is expected to be completed by Summer 2018, enhancing the camp's dramatic arts program.
"We already have a strong performing arts program that includes musicals, plays, dance, multimedia, and much more. Our program involves so many of our campers, and this will really help us move forward and allow us to do much, much more," said Jonathan Gerstl, Executive Director of Camps Airy & Louise. "We are so grateful to the Bearman Foundation and the Straus Foundation for giving us this great head start in funding this important project. We hope this sets the stage for other camp families, friends, and alumni to get invested in the future of both Camps."
The "Jill's Place" name is in memory of Jill Bearman, a Louise camper in the late 70s and early 80s who tragically passed away at age 15 from cystic fibrosis. She attended Camp Louise for several summers, despite her illness, as her father Sheldon was a long-time camp physician.  Camp Louise was her happy place, and the theater dedication is intended to help keep her memory alive in the place that meant so much to her.
"Jill had a zest for life that was a wonder to behold," said her parents, Drs. Sheldon and Arlene Bearman. "She was determined to overcome her physical limitations and live a loving, meaningful and enjoyable existence. In addition to her family, which she adored, she had a special place in her heart for both McDonogh School and Camp Louise. We really believe the highlight of her year was the opportunity to be a camper at Camp Louise. As a consequence, all of us in our family have warm memories of our times at Camp and treasure the many friends we have made. Through the aegis of the Herbert Bearman Foundation, we are fortunate to be able to dedicate the Camp Louise theater in recognition of Jill's love for Camp."
The theater was designed by Melville Thomas Architects and is being built by Whiting-Turner. "Jill's Place" will provide new amenities for the camp including a theater that is covered, seating for 700+ campers and staff, an upgraded audio system, enhanced lighting features and more.
"In 1922, Aaron and Lillie Straus wanted to give Jewish children an unforgettable experience," said Lee Coplan, President of The Camp Airy and Camp Louise Foundation Board. "Since that time, we've put a lot of time and effort into keeping both Camps fresh and modern, but we can't do it without the help of generous support from other donors. Thanks to the Herbert Bearman Foundation for recognizing the impact their generous gift will provide to so many girls over many decades to come."
To ensure the community and those who knew Jill have a starring role in the completion of the theater, Camp Louise is offering naming opportunities including bench sponsors, the sound booth and more.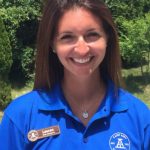 "So many in our Camp Louise family remember performing on stage and want to be part of this project," Lauren Perlin, Camps Airy & Louise Director of Development said. "These naming opportunities provide a way to do just that."
Those interested in contributing to Jill's Place and to Camps Airy & Louise can contact Perlin at 410-843-7340 or Lauren@AiryLouise.org.