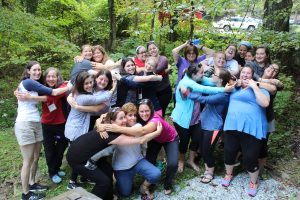 Just like Aunt Lil and Uncle Airy vowed to never turn away any camper due to financial status, generous members of Circle have created a fund to make Circle Reunion affordable for members with financial challenges over the past several years.
The details of the scholarship fund are as follows:
Any Circle member who attends the whole reunion is eligible for the scholarship funds.
There will be no selection among members who request assistance – everyone who asks will receive some amount.
The available pool of money will be divided evenly among all requestors, up to 1/2 the cost of reunion. The most anyone will receive is ½ the reunion cost, but if there are many requests, each person may receive less than ½ the cost.
Any leftover funds will be held for future scholarships.
Donations to Camp Louise Circle are tax deductible.
To request assistance; please email Elissa Sachs-Kohen at eskohen@bhcong.org.
Make a Donation
If you would like to make a donation to ensure that Circle Reunion be as accessible as possible for all Circle members,  you can send your donation via check to Dani Hercenberg, noting on the check "Scholarship Fund."  Email Dani at danih@camplouisecircle.org for more information.
Online donation payments are currently unavailable.
Levels of Support
$18 – Chai Supporter
$36 – Solarium Supporter
$80 – Bunk Supporter
Provides a full-weekend scholarship to a fellow Circle member!
$160 – Cab Nite Supporter
Provides full-weekend scholarship to 2 fellow Circle members!
$960 -White House Supporter
Provides a full-weekend scholarship to a bunk of fellow Circle members!
All donors will be recognized in The Lighthouse, on the Camp Louise Circle website and on signage at the 2014 reunion.