Circle Day is this Sunday, May 23rd!
Join us for two events, a casual mealtime hangout, and an evening sing down! In addition to hanging out and celebrating circle, we'll be raising money to give back to the Camp Louise staff this summer.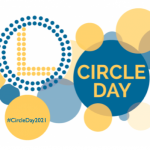 Lunchtime Hangout
Date: Sunday, May 23rd, 1pm Eastern
Join Camp Louise Circle for a casual hangout at 1pm Eastern. Wear your favorite camp swag and bring some snacks or a meal that reminds you of camp – lunch, dinner, or a snack, depending on your timezone. There will be an opportunity to break out into smaller groups to catch up with friends you have not seen and get to know new ones.
Sing Down
Date: Sunday, May 23rd, 7:30 pm Eastern
Join Camp Louise Circle for a classic reunion activity – Sing down! Get ready to join your team to come up with songs featuring a to-be-announced word. Then we will join with the entire group for a musical hang out where we find out how many songs we are collectively able to think of in the allotted time.
Fundraising
Help us raise $2021 this #CircleDay2021!
Camp Louise Circle relies on your generous contributions to support both Camp and this wonderful alumni community. We are planning to sponsor a special treat for staff this summer (Camp staff = current and future Circle members!) and give a gift to this year's Circle inductees, and we need your help to make these and other future plans a reality. Any amount you are able to give is so appreciated. Together, we can reach our goal of $2021!
Can't join our virtual events? No worries! Here are some other ways to celebrate Circle Day:
Wear your favorite camp shirt (tag Circle in your selfies!)
Call or Facetime a friend
Send some snail mail
Folkdance in your living room (or backyard)
Sing along to your favorite campfire song
Make your favorite camp snack
Donate to Camp Louise Circle